Double Your Fundraising
Your nonprofit does great work. Learn a better, more effective way to fundraising and increase your organization's impact on the world.
An online fundraising course that teaches nonprofit leaders how to bring in 5, 6, and 7-figure donations.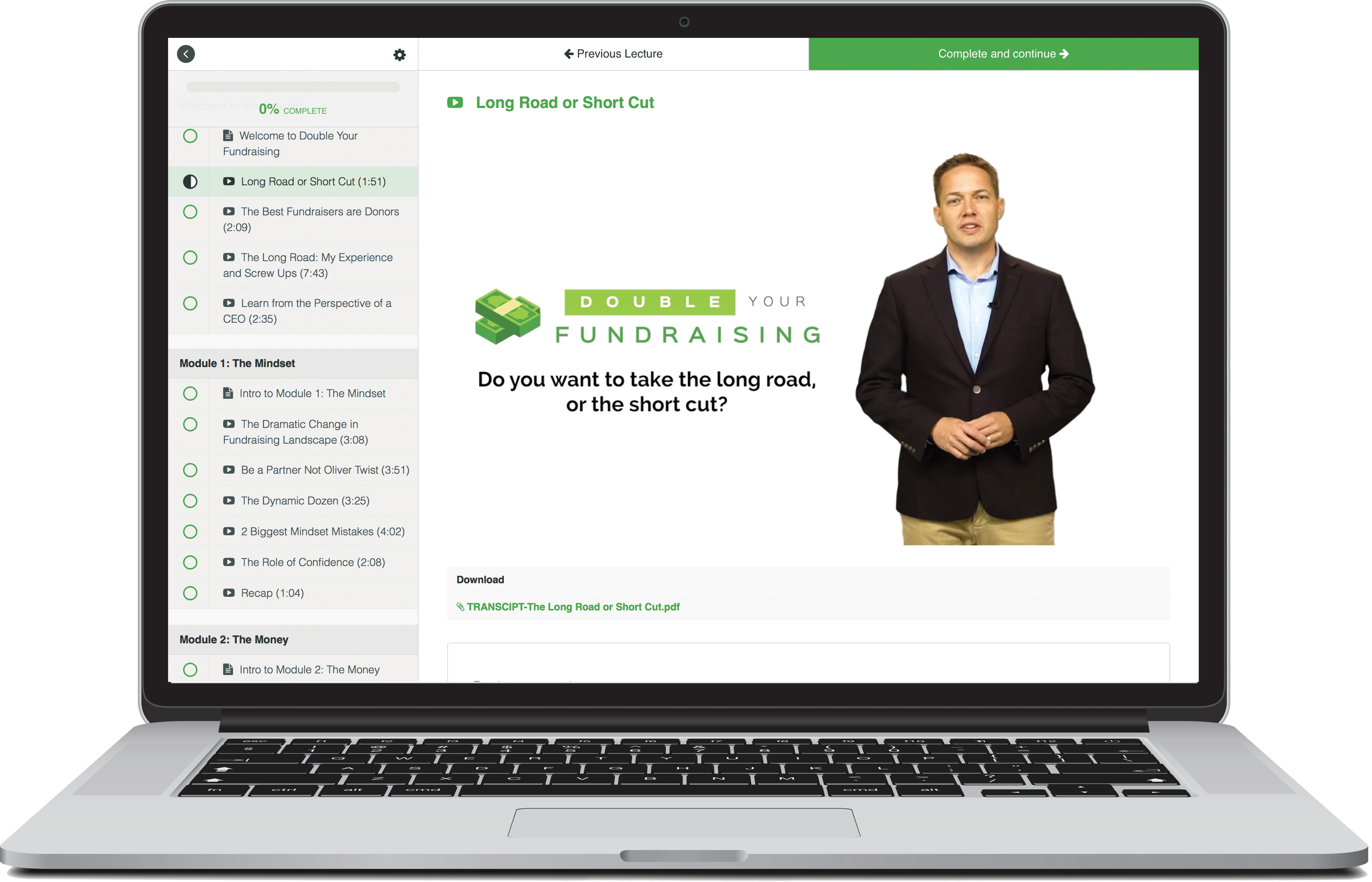 What you'll get:
Proven strategies for rapidly scaling your organization through 7-figure fundraising
Actionable tools nonprofit leaders can use to fundraise at the 7-figure level
Tactics to discover, nurture and effectively pitch to 7-figure donors
Who it's for...
Nonprofit leaders that:

Want to learn what's working right now with large donors
Feeling held back trying to execute your organization's vision
Frustrated with slow growth and looking to expand and grow
Ready to scale their organization with 7-figure donations
What you'll learn:
The Psychology of Large Donation Fundraising – Discover the correct way to approach fundraising as a nonprofit leader.
Know Exactly What to Say to Donors – Understand the importance of a great donor pitch and watch seasoned fundraising experts show exactly how it's done.
How to Craft a Killer Pitch – Learn a proven 7-figure pitch formula to make your pitch stand out and connect with donors. Work 1-on-1 with a coach to craft a unique pitch that will get donors excited and on board with your organization's vision.
Personalized Coaching & 24/7 Access to Course Resources – Maximize your success and effectively apply the concepts you learned in the course with anytime access to the content and 3 months of post-workshop coaching sessions.

What's included
- 5+ Hours of video content that teaches specific, proven fundraising methods you can use to start increasing donations today.
- Interactive exercises and handouts to help you apply the concepts from the course and create a personalized roadmap for your organization's 7-figure success.
- One-on-one coaching sessions that help you refine your pitch, troubleshoot any roadblocks, and hone your fundraising skills so that you walk into meetings prepared, confident and ready to inspire donors.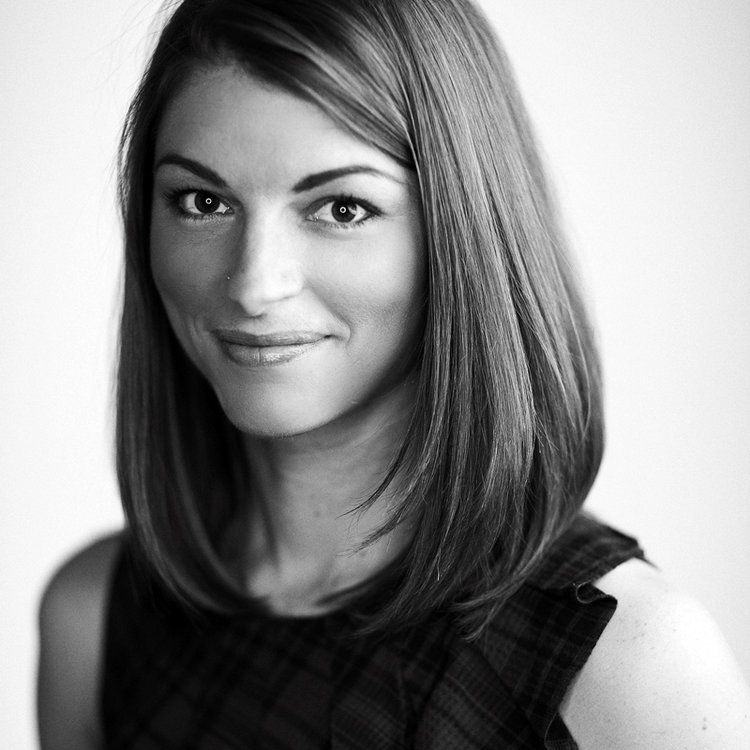 "I followed my heart to start a nonprofit. I knew how to run a business, but had very little experience fundraising. I knew there was so much to learn and felt lost and overwhelmed. Do I buy books? Take a course? Apply for grants? Who do I learn from? Who can I trust?
The 7-Figure Fundraising online course is led by someone who's been there and has proven the success of the methods taught. It had all of the information I was hoping for to help me feel confident and prepared to knock it out of the park with every donor meeting I schedule. Plus, the coaching calls helped me practice and refine my message so that I can communicate our story and paint the vision in a way that really connects with our potential donors. This course was a game-changer and I am so grateful I found it as soon as I did!
"
- Ashley Jones, Founder, Love Not Lost
Your nonprofit does great work. Learn how to fundraise so that your organization can have a greater impact on the world.
Take our 4-week online fundraising course and become the fundraiser your organization needs to achieve it's big vision.
You'll learn: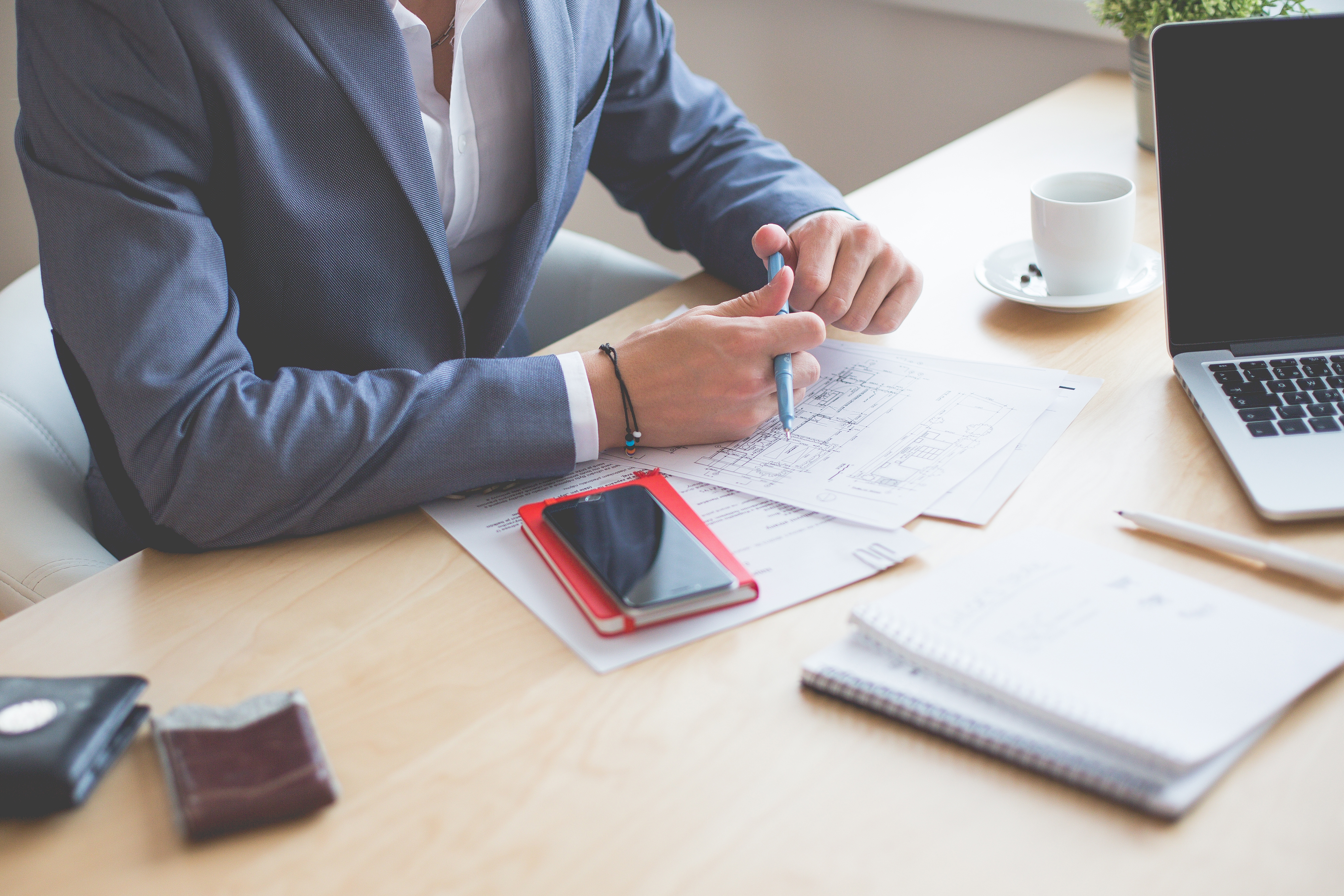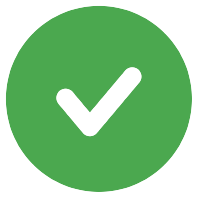 The Mindset. Understand the mental shift you must make as a nonprofit leader. We'll help you identify the self-limiting beliefs preventing you from realizing your potential as a fundraiser and you'll learn simple, proven methods you can use to rapidly grow your organization.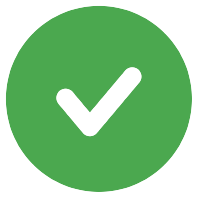 The Money. Learn how to identify which donors your organization should - and shouldn't - focus on. Discover practical, adaptable tactics to dramatically increase your nonprofit revenue - all proven approaches that work in the real world and not just on paper.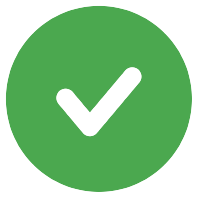 The Mission. Discover how to communicate your organization's vision clearly and concisely. Get scripts and tips on what to say to donors and how to present in a meeting. Watch seasoned fundraising experts deliver and break down a real pitch that has raised millions of dollars and learn a proven formula for nailing each of your donor interactions.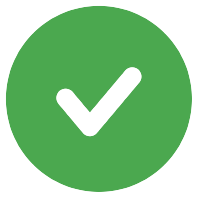 The Method. Dig deep and understand the fundraising system that has helped dozens of nonprofits grow their organization and raise tens of millions of dollars. Learn how to structure and define your development shop roles to maximize your organization's growth and realize your big vision to change the world.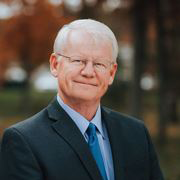 "Most of my career I was a successful entrepreneur and sold millions of dollars in products, but fundraising was a challenge when I became a nonprofit CEO. I struggled to find a process that worked. This course and coaching taught me the skills and process I needed to be a successful fundraiser and has helped me raise tens of thousands of dollars from new donors."
— Donnie Wilson, President, Midland Institute for Entrepreneurship